Grab The move to millions® Method
The Move to Millions is a journey. Whether you're after a solid, thriving mid to high multiple six figure business or you've got millions on your mind, you need this powerful resource to begin the planning process to jumpstart your move. Learn exactly what we teach to help our clients shift the trajectory of their lives because of their businesses anywhere on the Move to Millions Continuum. Download yours today.

We are Incredible One Enterprises, an Inc.5000 business transformation company
We are a spirit stirring, wealth creating, trajectory shifting company on a mission to help our clients leverage, scale AND sustain the million (or multi-million) dollar company they have been praying for.
We teach and consult 6-figure service based business owners, entrepreneurs, experts and visionaries how to become financially and spiritually wealthy 7-figure+ CEOs.
We provide business strategy + training, spiritual alignment + mindset coaching, wealth stabilization and legacy development consulting to help you achieve your life and business goals to normalize millions for your family.
We believe that you deserve to have more money than you can give, spend, invest and save because of your business. If you didn't come from millions, millions should come from you.
The truth is, we know that a low six-figure business is small business poverty and you cannot live the abundant life God promised you when you're barely over the six figure mark. God is issuing a transference of wealth and entrepreneurs are primed and positioned to access it.
While I don't mean to diminish the significance of hitting low six figures ($100,000-200,000), you and I both know that you couldn't stop here even if you wanted to! The truth is, we hope we've offended you so that you stop living beneath what God desires for you. Because until you realize that you don't have to choose – you can love God and make millions, we want to be the nagging voice willing you to LEVEL UP
We believe that wealth and abundance is your birthright. We believe that your business is the vehicle God intended to bring wealth into your life experience. We desire to shift the staggering statistics around small business because when businesses make more, the impact is felt by MILLIONS.
or more,

and hit their next Milestone while deepening their connection to God
of clients businesses become million dollar companies each year (we are 42 $1M+ CEOs strong to date)

mentoring 6 and 7 figure companies

YEAR 1

is about laying a foundation, increasing your pricing and creating your Million Dollar Assets™.

YEAR 2

is about tightening your Assets, aligning systems and building your team

YEAR 3

is about scaling all systems and support to easily lock in on 7 figures in revenue sustainably.
And
every year

we continue to refine your success mindset and spiritual alignment so that your limiting beliefs don't derail your destiny.
We are seeing clients Move to Millions within 1-3 years from $250,000. For us the time is about SUSTAINABILITY so that your business continues to scale beyond the seven figure mark. Our programs are set up to support you over the three year trajectory to and beyond the million dollar mark although many of our clients stay longer. We do this because business sustainability is what we are after. 
The Move to Millions® Method:
A proven formula to scale to 7 figures and BEYOND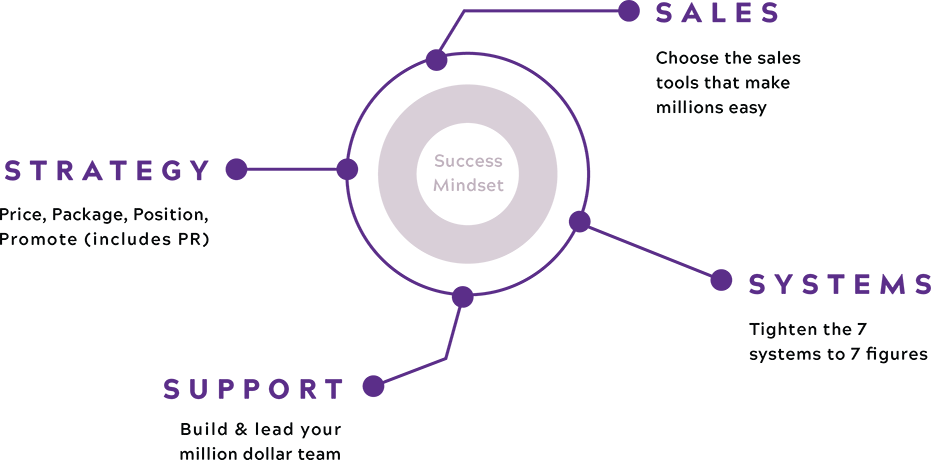 "WORKING WITH DARNYELLE HAS BEEN A GAME CHANGER!
I've crossed a major threshold and now six figure months are my new normal! I love being a $1M CEO! Darnyelle is the GOAT and I'm telling you, your life will never be the same if you get into her space!"
-Attiyah Blair, Real Estate Investor + Mentor
"200% GROWTH 2 YEARS IN A ROW
...And my first EVER $100,000 month!"
-Nancy Greene, NGD Law
"When I met Darnyelle, I was already over 1/2 million and I KNEW that I could grow this business to multiple millions, but I needed the right business model, pricing and systems. In working with Darnyelle over the last 12 months, my company has added more than $2,000,000 in revenue from ONE strategy she taught me and
WE HAD OUR FIRST MULTI-MILLION DOLLAR YEAR!"
-Marquel Russell, Speaker
"$62,000 EARNED DURING
Leverage + Scale Weekend and our first $100,000 client in the Mastermind"
-Angela + Victor Myles
"CLOSED MY FIRST 7 FIGURE CLIENT
with Darnyelle's help and having my best year yet!"
-Dr Cozette White
They are orchestrated with
EXTREME INTENTION
We create a safe space for millions to happen for today's service based business owner.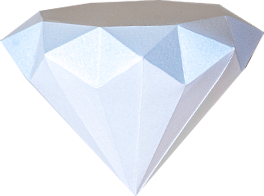 At Incredible One Enterprises, we teach you how to be in alignment and connection with God so that the light He gave you shines through into your business. We help you recognize that you ARE abundance. With our help, you will break out of the patterns of unworthiness and undercharging so that you can serve your clients more deeply, secure a wealthy legacy for your children's children and step boldly into your abundant birthright. And we give you all the business tools you need to reach the levels of wealth you dream, pray and journal about. Because making the MOVE to Millions not only shatters your family's limits, it shakes the planet.
Get the experience & support
to make the Move to Millions®
Incredible Factor University® offers our suite of coaching and consulting programs that are designed to help business owners on the journey to the million dollar mark. Whether that means you want a solid multi-six figure business or you've got millions on your mind, when you enroll in an IFU program, you'll be working with a team of expert coaches and mentors who have experience leading multi-six or 7 figure companies.
Our work gets clients on the trajectory to millions
With milestones set for $250K, $500K, $750K, and $1M, we see our clients shift from six figure years to six figure quarters to six figure months in working with us.

"I HAD MY FIRST EVER
$109,000 week in my first 30 days in the Mastermind and my best year yet! I renewed for year 2 because this program is Incredible!
-Julia Winston
"I MADE THE MOVE TO MILLIONS
this year and my best revenue year YET in the Mastermind. Darnyelle is the GOAT. The curriculum, the community they are changing my life!"
-Jasmine Womack
"I CROSSED THE MILLION DOLLAR MARK
within 1 year in the Mastermind" Being this this mastermind has been a true game changer. I am a million dollar CEO and when it was time to renew, it was a no-brainer because this program changed my life and business!
-Althea Hearst
"CROSSED THE MILLION DOLLAR MARK"
Based on my work with Darnyelle within 9 months, I could call myself a million dollar CEO. You need to work with Darnyelle and her team. Not only will your business grow, your life will change."
-Dr Madeline Lewis
"I'VE BEEN WORKING WITH DARNYELLE FOR 10 YEARS
and it never gets old. This year, I TRIPLED my business and moved closer to my first million dollar year closing out the year in the $750,000 club in the Mastermind. Why haven't you enrolled yet?"
-Dr Angela
you can love God & make millions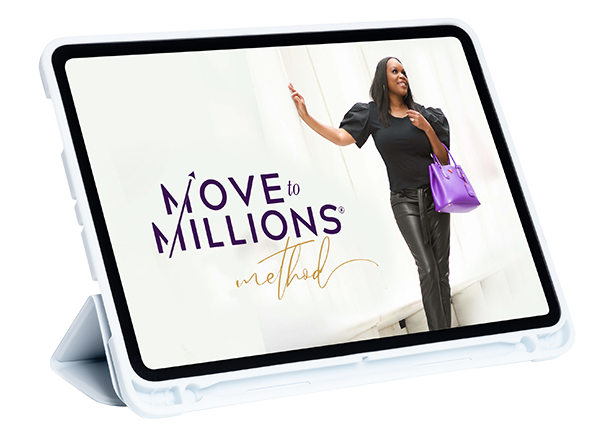 IOE FOUNDER, DR. DARNYELLE JERVEY HARMON

created THE MOVE TO MILLIONS® method BEST KNOWN FOR FAST-TRACKING A COMPANY'S GROWTH.
Our framework includes the development of your Million Dollar Assets™ and leveraging this powerful success formula. Learn more in the MOVE to Millions Method.

Are you ready to make your move?
By leveraging the Pillars of Business OptimizationTM and creating their Million Dollar AssetsTM, our clients and their teams are able to exponentially grow their business and Move to Millions.
HERE'S HOW WE
help our clients
WE CALL ON THEM TO
DO THEIR INNER MINDSET
AND ALIGNMENT WORK
We help our clients to believe
that they deserve to build a
profitable and thriving million
dollar company
HERE'S HOW WE
help our clients
WE WORK WITH
OUR CLIENTS TO PERFECT
THEIR BRAND MESSAGING
A strong brand helps them to
become known in the
marketplace
HERE'S HOW WE
help our clients
WE HELP OUR CLIENTS
GET FOUND CONSISTENTLY
Our proven authentic and
complelling marketing strategies
and systems help clients
make an impact.
HERE'S HOW WE
help our clients
WE HELP CLIENTS GET
PAID WHAT THEY DESERVE
By helping our clients master
sales conversations, increase
conversions and manage their
sales process, we increase
their cashflow and client counts.
HERE'S HOW WE
help our clients
WE HELP CLIENTS
BUILD A BUSINESS THAT
SUPPORTS THEIR GROWTH
Our operational systems and
infrastructure allow clients
to work smarter, not harder and enjoy the journey and
lifestyle they are creating.
HERE'S HOW WE
help our clients
WE EVALUATE THEIR
TALENT AND ENSURE EACH
TEAM MEMBER IS MAXIMIZING THEIR INNATE SKILLS
This helps clients build a cohesive,
productive, high-performing team and inspiring company culture
HERE'S HOW WE
help our clients
WE HELP TEAM ESTABLISH
THEIR LEADERSHIP PLATFORM AND LEGACY BLUEPRINT
These asset allow them to lead
courageously while impacting
millions of lives and preparing a legacy for their children's
children.
If you don't have the systems in place that you need to run a company firmly on the trajectory to millions ($250K, $500K, $750K or $1M+), learn more about working with us here: