You've probably heard the saying, "nothing happens until somebody sells something," right?
Well, it is certainly true, BUT no one can sell anything unless they have a strong lead on a strong list to call to ask for the sale.
Yes, you read that correctly, a list.  You know what I mean, a group of people who have something in common.  They all have the problem you solve and you are clear that they need you. If you've been anywhere near business in this lifetime you know that your list is everything.  It's your opportunity to print money every time you engage it to take the decisive action you would like it to take.
Because I speak with tons of business owners each week, I am always getting asked questions like the one Candace poses that I answer in this week's episode of Incredible Factor TV:
"Hi Darnyelle when it comes to prospecting and reaching potential clients, do you recommend purchasing lists from companies like Info USA or other companies, or do you recommend putting the list together on your own?  If you recommend purchasing a list,   how do you know their lists are credible?"
Check out my response to Candace's question:
As a leading business coach and consultant, I have worked with my fair share of entrepreneurs and business owners all of whom think that if they build it, "they" will come.  As you ponder the elusive "they", try this on for size.  "They" will only come if you have a strong message, compelling marketing, a top-notch sales conversation, a follow up system and a list of them to draw from.
Now, as I share in this week's episode, you can certainly decide to purchase a list or you can decide to do your own research and due diligence to create a list to prospect from.   And, you can also create an opportunity for "them" to self-select themselves onto a list that will allow you to serve them.
As we explore each option, let me remind of you of two important facts to consider which may enhance or inhibit results from working a prospecting list.  The warmth of the list can play an important role in how long it takes to turn a prospect on the list into a paying client.  When your list is completely cold, plan to spend a considerable amount of time warming it up.  Those first set of attempts, which I refer to as a prospect entry campaign, can mean that you spend anywhere from 8 to 12 (sometimes more) attempts trying to get the person to agree to hear what you have to say or read your email and respond.  When the list is warm (or warmer), the amount of attempts to get the meeting typically reduce by as much as 30-50%.
You should know that with any business development opportunity, there are pros and cons.  Targeted prospecting means that you can create a direct connection to those you want to serve.
The Pros:  when you leverage targeted prospecting, your results can occur faster if your very clear on who you are targeting and clear that they are CURRENTLY in need of what you offer.  With a direct approach to getting in front of those who need you, often you can save money and gain control of your target market.
The Cons: albeit a great way to take control of your target market, rejection is typically much higher (especially if the leads are cold) and therefore your conversion rate is much lower.  Because your prospective offerings are usually more lucrative, the lower conversion rate won't adversely affect your efforts too much. To excel with a prospecting list, you need to have strong sales skills and if you haven't mastered the sales conversation (as evidenced by the many, many conversations on your books that converted to clients,) you may struggle significantly here.
Now your list building choices:
Purchasing a list.  Using credible list development companies can be a viable way to get access to new leads that meet your ideal client criteria.  You'll have to find out what types of lists the company you choose can provide and get very specific about the criteria you want them to apply to the list so that you get the cleanest list possible.  The more work you do developing your criteria, the easier it will be to hone in on your list. And be sure to include a clear problem if you can as you develop your criteria.  For example, if you are a career acceleration specialist, you might want to target mid-level executives in fortune 500 companies on the west coast that were not promoted to in the last 18 months.   If the company you choose can get you a list to this level of specification, you may have a good chance of getting penetration, scheduling meetings and welcoming new clients.
Developing a list.  By establishing your criteria and creating your very own targeting list, you have greater control over the types of people you locate and ultimately reach out to.  You can also begin to warm the prospect by cross-referencing your social media, professional associations and centers of influence. By creating your own list criteria then having an intern or other research assistant pull quality leads, you can influence your success much more quickly than when you are using an entirely cold list.
Building a list through self-selection. By creating a killer, juicy, amazing free sample of your work, you can entice your ideal clients who find you through various means to give you marketing gold: their name, email address and hopefully phone number so that you can market to them over an extended period of time. The power of self-selection is that if they say "yes, I want that," you're closer to getting them to take decisive action towards you, your products and services and becoming a paying client.  Building a list this way has its own drawbacks – mainly that it is time consuming and can cost you a little cash to get them clicking in the direction of your website.
Each has their pros and cons.  And honestly the most effective business strategies may leverage all three.   So, what are you going to do?  Which option do you feel will work best for your business?  What advice can you share for Candace?
Now I want to hear from you, what's your two cents?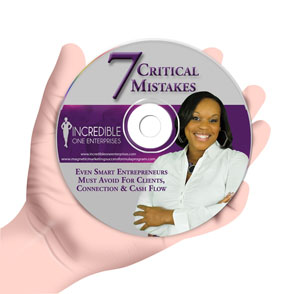 ©2014 by Darnyelle A. Jervey. All Rights Reserved. Darnyelle A. Jervey, MBA, The Incredible Factor Business Optimization Coach and Mentor, is the founder of Incredible One Enterprises®, Incredible Factor University® and the Leverage Your Incredible Factor System®, a proven step-by-step program so you experience financial and spiritual abundance in your life because of your business. For more information and a FREE audio CD "7 Critical Mistakes Even Smart Entrepreneurs Must Avoid for Clients, Connection and Cash Flow!" just fill out the form below.