I think we can all agree that the days of ignoring the Internet and social media are behind us (assuming they ever were).  I for one have worked with many business owners who've come kicking and screaming into the realization that you must have online marketing strategies in your mix if you plan to grow your business.
But wait a minute.
The truth is, it will take more than a presence on social media to attract clients.  And, those old transferable skills that are amazing offline, don't discard them just yet!
What I've proven in my business and the businesses of my clients over the past 5 years is that the best (and most successful) businesses leverage BOTH online (social media and internet marketing) and offline (speaking, networking, prospecting, cold calling) to experience exponential growth in their businesses.
It's a best of both worlds scenario and I totally understand how someone like Jim is questioning whether or not this approach is truly the best for growing his business:
"Hi Darnyelle.  I keep hearing all this focus on getting companies like mine (4 employees, consulting based) to shift our marketing focus to solely online strategies. But I have to tell you, I'm not convinced.   I mean I know social media is here to stay but, am interested in your thoughts:  What's more effective – online or offline marketing?"
Check out my response to Jim's question in this week's episode of Incredible Factor TV:
As I share in the episode, this is an interesting debate.  I believe that for every person who is gung ho for the power of social media marketing there are two who are still gung ho for old school marketing, also known as offline marketing.  Personally I think the best businesses leverage the best of both.  In my company we use both together.  Every launch includes online and offline strategies to maximize the effectiveness of the campaigns and increase our conversion rates.  Should you have a presence on social media – absolutely.  Should you ensure that your website is optimized for search engines – absolutely.  Should you get out and network face to face – absolutely.  Join me for the after party where I will share the best of both worlds, the online and offline strategies that will be most effective in positioning your business for profit.
Here's an example of a marketing campaign that leverages both  (and this is one of my favorites :-):
First, you determine that you want to launch a new program in the marketplace.  I'm assuming you've done your due diligence and are clear about the problems it solves and how ready your market is to pay for a solution to the problem.
Next, you develop your launch calendar and decide that you want to bring the new product to market with a 45-day marketing campaign.  You set a goal you can be proud of that's a bit of a stretch and you feel good about your new program offering.
Then, you decide that you want to first educate your audience that you understand their problem, and more importantly, have an effective solution – so you hold an online webinar.  This online marketing vehicle is announced via your marketing list, your social media following on the big three: LinkedIn, Facebook and Twitter and you also run a Facebook Ad to get new leads who are also very interested in what you're going to be training about.
For the two weeks leading up with the webinar, you are getting people to opt in to attend the training when you go out and network and/or speak as well as through the online channel you've set up.
You hold your training (it's a success!) and then after, you begin your post-launch campaign, which switches largely to offline marketing vehicles like phone calls, speaking and networking. Now, you're still sending emails to your list and communicating about the program via social media, but you realize that in order to see the numbers that you desire, focusing solely on an online campaign just won't make it happen.  (Hint: Online marketing campaigns run a 1-3% conversion rate, social media runs about .71%, but offline strategies grow to 30%+)
So, Jim, I feel you.  You definitely need to leverage online marketing, but don't forget about how business was done before there was social media (or the Internet for that matter).  The best deals are made through building relationships.
Now I want to hear from you, what's your two cents?:  What are you doing to leverage the power of social media and also build effective relationships that gain customers and clients for life?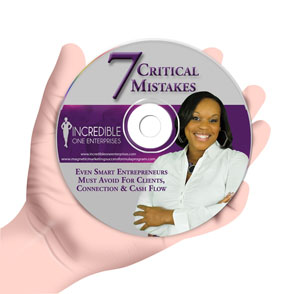 ©2015 by Darnyelle A. Jervey. All Rights Reserved. Darnyelle A. Jervey, MBA, The Incredible Factor Business Optimization Coach and Mentor, is the founder of Incredible One Enterprises®, Incredible Factor University® and the Leverage Your Incredible Factor System®, a proven step-by-step program so you experience financial and spiritual abundance in your life because of your business. For more information and a FREE audio CD "7 Critical Mistakes Even Smart Entrepreneurs Must Avoid for Clients, Connection and Cash Flow!" just fill out the form below.