In honor of it being December 2014, I decided that I would spend the final month of this year differently.  Rather than answer a question from someone in the Incredible Factor community, I am going to share one of five things I learned this year in my business.
It's been a phenomenal year.  I'm proud.  I'm grateful.  I'm humbled.  I'm honored to be this woman serving these people.  I am so in awe of how God has used me for His glory and to the delight of transforming the lives (and as a result businesses) of many.
I've gone from a solo-proneur with a single VA to a CEO with 5 employees.  Can I just say, this one change – HUGE….I have the most amazing team of women who believe in and support my vision, brand and mission.
I've gone from a woman afraid to openly share her spirituality to a woman fully committed to letting God be the guiding force in her business behind (and in front of) the scene.  (I believe that businesses with a  spiritual foundation go farther, faster.)
I've gone from a few client success stories to hundreds of people who can all speak to the strategies that I've helped them to define, own, unleash and leverage.
I've gone from a business owner who was doing OK financially, to generating 7 figures in my business.  And along the way, here is something that I learned….
Check out this week's episode of Incredible Factor TV:
As I shared in the video, one of the biggest lessons learned this year is to not only think big but to make sure that you plan big, so that you are prepared for what could happen to you.
I'm reminded of one of my favorite quotes:
"Watch your thoughts, they become words;
watch your words, they become actions;
watch your actions, they become habits;
watch your habits, they become character;
watch your character, for it becomes your destiny."
In this case, my thoughts of growing my business and serving more people, the gratitude statement I wrote in my journal every morning for more than a year, actually became a reality for me, but I wasn't ready because my actions didn't line up to my thoughts.
Learn from my mistake by taking time this month to do more than think big, but to plan big in your business for next year.
Now, I want to hear from you, What's your two cents?: What have you learned about yourself this year in your business?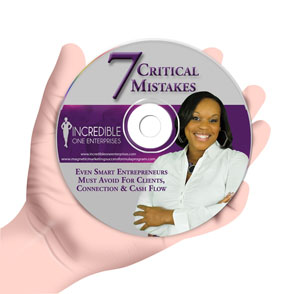 ©2014 by Darnyelle A. Jervey. All Rights Reserved. Darnyelle A. Jervey, MBA, The Incredible Factor Business Optimization Coach and Mentor, is the founder of Incredible One Enterprises®, Incredible Factor University® and the Leverage Your Incredible Factor System®, a proven step-by-step program so you experience financial and spiritual abundance in your life because of your business. For more information and a FREE audio CD "7 Critical Mistakes Even Smart Entrepreneurs Must Avoid for Clients, Connection and Cash Flow!" just fill out the form below.